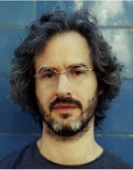 Filipe da Veiga Ventura Alves is an architect, photographer, and visual effects artist based in Lisbon, Portugal. With a passion for exploring the limits of scientific and artistic expression, Alves has spent years pushing the boundaries of his fields and discovering new techniques and processes.
Alves spent 15 years working in special effects and 3D animation for television and cinema. During this time, he also developed a passion for astronomy and astrophotography as a hobby, spending a decade exploring the cosmos and discovering several planetary nebulae.
In 2010, Alves co-founded 1825 Studio, a laboratory for the construction of architectural images that seek to develop new representation methods. At 1825 Studio, Alves leads a team of artists and architects in creating images that balance scientific precision with dreamlike atmospheres, conveying the character of a particular environment in a way that seduces and lingers in the viewer's memory. In addition to traditional techniques, the studio also employs cutting-edge virtual reality technology to enhance the visual experience.
Building on his passion for image-making, Alves established Silverbox in 2012, a photography studio specializing in wet plate collodion photography and other historical photographic processes. At Silverbox, Alves creates portraits in large format, blending classic techniques with modern aesthetics to produce singular and expressive images.
Alves is one of the few people in the world who practices Lippmann photography, a long-forgotten photographic process that he has helped rediscover. He has participated in exhibitions at the Preus Museum in Norway and the Photo Elysee Museum in Lausanne, showcasing his expertise in albumen Lippmann photography.
Alves' work is characterized by his commitment to exploring the limits of his fields, his attention to detail, and his dedication to capturing the essence of his subjects. Whether he is creating architectural images, producing stunning photographic portraits, or rediscovering and practicing forgotten photographic processes, Alves' work is driven by his passion for discovering new ways of seeing and understanding the world around him.